OTM In Pictures
With Andoni at Food on the Edge 2018
With Igor Zalakain, Laboratorio Chef at Arzak in San Sebastion - the Lab is much expanded sice we first met Igor.
Paparazzi Dog looks ready to snap Passers By on Oxford Street, trendy main thoroughfare of Sydney's Paddington district - it's just a few steps from Saint Peter's restaurant - see OTM News. You can see Peter & PD became good friends, but for more of the story - . https://pozible.com/project/help-replace-stolen-paparazzi-dog
We join join the Henderson-Dille families and friends at a Memorial for Frances Henderson Dille, Mount Lebanon Cemetery, Pittsburgh PA on July 16. People came from as far away as Dublin (Ireland & Ohio) & California to pay tribute to their beloved Franny who passed away in November 2015. Perhaps you can spot our son Adam, daughter-in-law Jen and grandchildren Cate & Phillip.
With Givanni Poggi, owner of the "Steeler" Bar near Rome's' Piazza Navona
Group Hug with Mindy Segal at 2016 James Beard,Awards in Chicago. Photo by Rose Photo
Peter with 2016 James Beard Best Chef NYC Jonathon Waxman - who was THRILLED!! Photo by Rose Photo
Peter attracted quite lot of attention at the 2015 James Beard Awards, with his creative interpretation of "black tie". Many compliments too!!
Ann with Tanya Bastianich Manuali - Celebrating Publication of Healthy Pasta at Lidia's Pittsburgh
Peter imitates Fred Flintstone at Padova, Italy's Le Calandre. Maitre'd Andrea hinted this dish was coming- Ann couldn't resist saving for posterity
In Friuli with Winemaker-Restaurater Valter Scarbolo & his Wife Maria, Wayne Young of Bastianich Wines - We Tasted 6 White & 4 Red, all Excellent,and some Great Food at La Frasca
Sunset at Canoe Restaurant, Toronto - Chefs ignore, Diners delight this special view from 49 floors up
Helen (OTM Interview upcoming) & Lisa Tse, Sweet Mandarin, Manchester England invited to cook for Chinese Premier Li & UK Prime Minister David Cameron
OTM congratulates Jennifer Haigh new Master's graduate from the Arnold School of Public Health, University of South Carolina. Well done Jen, we're so very PROUD of you.
OTM's beloved Granddaughter Cate chose a Pink Outfit to match the Her Pink Cast on Broken Pinkie
OTM's Granchildren Cate & Phillip joined with a Neighbor to create this Great Snowperson - in South Carolina, February 12, 2014. Global Warming??
Matteo Neri, Sommelier, Son of Owners Marco & Lorella, of Le Logge, Siena, Italy, shows Ann the Cave that was an ancient home, now Wine Cellar & Cheese Affinage

Ann with a Friendly "Black Pig" at Antica Corte Pallavicina. A Symbol for the Great Pork and "World's Best" Culatello, near Zimbello, Emilia Romagna, Italy

Donal Doherty of Harry's Restaurant, Inishowen, Donegal Ireland Explains a Reconstructed Ancient Fort. We worked up a Great Appetite for a Great Meal to Follow at Harry's

Peter with Ireland's Famous Poet-Playwright Oscar Wilde & a European Namesake - in Galway, October 2013. Curiuosly neither Oscar had Anything to Say

Jon Domenico, Manager at the new Wine Bar created by Osteria Le Logge in Siena, Beautiful Cellar, Great Collection of 14,000 Bottles

OTM's Great Friend and Favorite Chef Massimo Bottura with his Complete Kitchen Crew at Osteria Francescana, Modena, Italy. Lunch was Fabulous Too!!!

Ann helps Craig Rogers of Border Springs, VA, Roast a 90 lb Lamb at Euphoria 2013 in Greenville SC - VERY tasty & within 30 minutes it was All Gone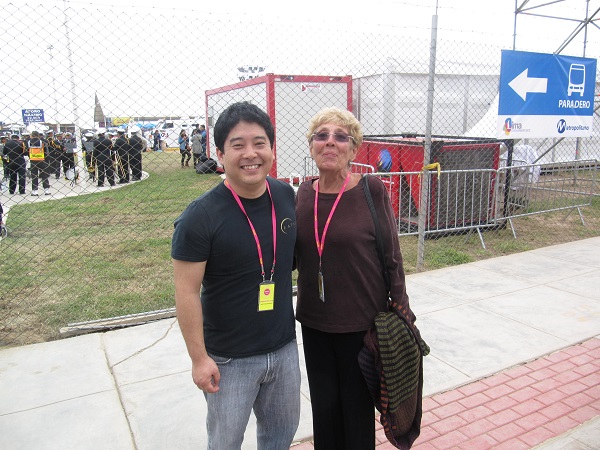 Ann & Mitsuhara Tsumura, Chef Owner of Maido, Lima Peru, also an Organizer of the Mitsura Festival that OTM attended, September 2013

Ann & Peter Take a Hint from a Lima, Peru sculpture. We were So Happy to be there!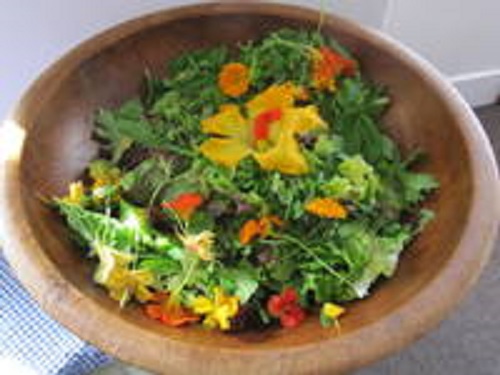 "The World's Most Beautiful Salad" pictured at Ireland's Ballymaloe Cookery School. It Tasted a Good as it Looked. Congratulations to Darina Allen's Cookery Class and Her Husband whose Farm produced the ingredients.

London's St. Ermins's Hotel keeps 200,000 Bees, Serves their Honey. The Bees roam St. James' Park & Buckingham Palace. Very Special!

Ann Does Eat Dessert - Super-Creative Corn Sundae at London's Coya is so Tempting & Delicious!!
Xmas Eve Lunch at Jamie Oliver's Fifteen Cornwall; Pollock & Caponata for Ann - Braised Pork & Polenta for Peter; Absolutely Delicious! www.fifteencornwall.co.uk.

Adam, Phillip, Catherine & Jennifer Haigh in Sunny S Carolina, Thanksgiving 2012

Ann makes a New Friend at the Steiff Shop in Berlin

Tasting Wines and Oysters with Jon Rowley at Taylor Shellfish in Seattle's Melrose Market

Chef Gianfranco Vissani and his Son & Manager Lucca next to Ann, with the Service Team after a Fabulous Lunch at the Stylish restaurant Vissani near Orvieto. Truly one of Italy's Best Dining Destinations!!

On the Menu with Winemakers of the Tenuta Setteponti Group at Loretta Lalli's Il Pino Agriturismo near S. Giovanni Valdarno, Toscana

OTM's Gorgeous Granddaughter Cate with Nana & a New Friend for Easter

Savatore Gambuzza, sous-chef Salvatore & their Malta Competition Gold Medal Winning Scupture (made from dried potatos) - Taken at Villa Athena, Agrigento, Sicily

Ann Shows the Scale of the Huge Ruins of Temple D at Selinunte, Sicily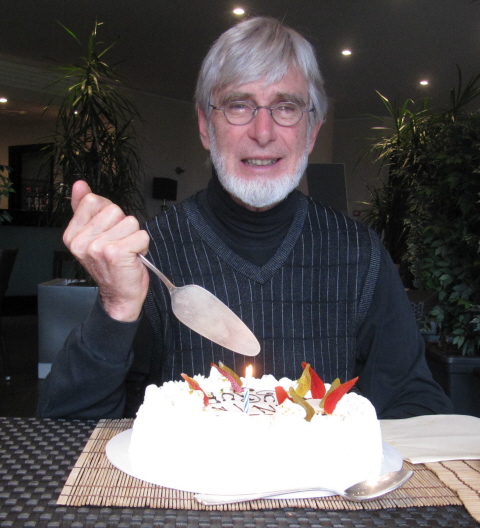 Falconara Charming House Kitchen, nr. Licata, Sicily, made Peter a Lovely Cake for his Birthday

Ann & Aidan McManus of King Sitric with the Gang at Nicky's Smokehouse in Howth, Ireland. Nickey has Great Fish. His Spelling is a "Play on Words" Plaice=Flounder.

Rocky & Reggie, Grandsons of Christopher Stubblefield, the Inventor of Stubbs BBQ Products, with Ann at the 2011 Fancy Food Show

Charles Phan Of SF's Slanted Door Cooked a Whole Hog at 5Star Sensation June 25, Ann Admired!

Ann meets a fellow Food Lover while in NYC for the 2011 James Beard Awards. Cookie Monster didn't make it to the Awards, but of course OTM did!

Daniel Boulud with Ann at Newly Opened Epicerie Boulud, 64th & Broadway NYC

OTM toured Boulud Sud just before the Opening with Daniel Boulud. Based on first sampling at a James Beard Awards "After Party" this will be Another Great Dining Destination from Daniel.

View of the Garden at The Goring during OTM's visit in 2009. The Middleton's probably have the same view for their Wedding stay

OTM's Wonderful Grandchildren ready to celebrate Easter

Ann meets new friends in San Francisco at Xmas time
With Casey Prentice, GM of Chebeague Island Inn, Maine - great dinner & overnight stay here

Peter loves Sunsets - this one at The Chebeague Island Inn

Justin Rowe at The Chebeague Island Inn created this "innovative" Lobster Corn Dog

The fabulous Parade of the "Ninos" in Alicante

Granddad Haigh with Catherine, July 2010

Granddad reads a story to Philip John "PJ", July 2010

"It was like this ....", Mari Carmen Velez of La Sirena, Petrer near Alicante, Spain - preparing for the interview. Fabulous lunch here.

Charles Phan, of San Francisco's Slanted Door, Out the Door & Heaven's Dog, volunteered his whole family at Cleveland's 2009 5-Star Sensation

Wonderful Antipasti at Primo al Pigneto, Rome, Boiled Veal & Rabbit Salads seen in the rear are OUTSTANDING dishes.

Ann admires and samples the lunch buffet at Babette, Rome

With Franca Leonardi at Da Sabatino, Rome on Christmas Day. Photos of other celebrity diners line the walls.

Vino, Vino everywhere!! Ann & Gianni Cappellanti in La Cantina at at Rome's Paris Ristorante

Ann & Gabriel Rucker, Chef at Le Pigeon, Portland OR toast each other at the NickyUSA Wild Game event, September 2009, The Resort on the (Hood) Mountain

With Donata Coluccio, Chef, Capital Grille Pittsburgh at Savor Pittsburgh, Sep 2, 2009

Ann Interviews Chef-Genius David Kinch at Manresa, Los Gatos CA - courtesy Greg Silva

The entire wedding party, Peter on far left, his brother Paul is in front

OTM's nephew Neil Davidson & his bride Tsetsegdemberel (from Mongolia!) on St. Agnes Cornwall beach, July 31, 2009

With Peter's cousin Stephen Shaw & his wife Aileen at Neil's wedding

Ann & Mike Lata, Chef-partner, Fig, Charleston SC celebrating Mike's James Beard Best Chef SE award, May 4, 2009

Big Ben of course. Can you see the Snowflakes? February 2009
Ann meets Jamie Oliver at London's Borough Market

Iqbal Wahhab, Owner of Roast at Borough Market, prepares to share 2 doz. Oysters with OTM, February 2008

With Tony Booth, Wild Mushroom Co., one of the Founding Vendors at the renovated Borough Market
At Kai Mayfair with Owner Bernard Yeoh (R), Sommelier & Chef after a Magnificent Repast!

Wine with lunch at London's Wild Honey

Adam, Cate & Jen tuck into lunch, the day after Thanksgving 2008

Dr. Herve This, Directeur Scientifique de la Fondation Science & Culture Alimentaire, in Paris talks Molecular Gastronomy - Nov. 16, 2008 program

OTM's good friend Michael Rutenberg shows how much the French like Obama as President

With OTM's good friends Brigitte & Michael Rutenburg at their Paris apartment, celebrating the new Presidency with an Obama Victory Brunch

Peter at the Paris Obama Victory Brunch - he was behind the Camera earlier

In Paris with Brigitte & Michael Rutenburg after a delicious dinner with friends

OTM's 1st Grandson, Phillip John "PJ" all dressed up for his Baptism, May 2009.

With Shiho Tonoshima at Ito En's gorgeous Tea Shop on NYC's Upper Madison Ave. Lunch upstaira at Kai preceded

Peter interviews Frederick Booker Noe, Bourbon Ambassador, Jim Beam at The Pittsburgh Whiskey Festival, Nov. 2008.

OTM's Cousin Murry Shaw with his Pet Jersey, Lucy, in Tasmania. Isn't she the most Beautiul Cow you've ever seen?

Banjo the Koala

Ann with Kevin Donovan at Donavan's St Kilda, Melbourne, our Favorite of all this City's Restaurants. Interior Courtesy of Kevin's Spouse-Partner Gail

Ann sneaked this Shot of Peter, pondering the Menu at Brasserie Phillip Mouchele at Melbourne's South Bank Complex - another Great Restaurant

With GM Simon Napthine at Tarrawarra, Victoria, Australia. Great wines, good lunch & Art Museum (in the background)

Dr. Nicholas Malajczuk shows OTM a Black Truffle growing at his Wine & Truffle Co. "Trufferie" - Manjimup, Western Australia

Wild but very Tame "Roos" grazing in the early evening outside Pemberton Wine Centre, Western Australia. OTM is only 50 feet away

OTM "on the town" at Morton's Pittsburgh Absinthe Tasting Event. Did Peter lose his glasses?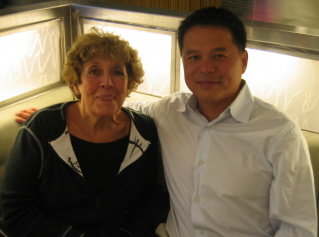 With Charles Phan of Slanted Door (San Francisco) fame at his then new Out the Door in Westfield Canter

Is Peter short, or are Thomas Keller (Per Se, French Laundry etc.) & Keith Coghenour (Duquesne Club) very tall?

How Fast they Grow, Cate August 2008

Right after this shot the Shepherd Dogs of this Abruzzo (Italy) flock came after the Photographer - but we escaped!

In Santo Stefano di Sassiano, Abruzzo (Italy) locals invited us to join their "al fresco" lunch
In Scanno, Abruzzo (Italy) Peter thanks the owner for a great lunch

How Fast they Grow! December 2007, not quite 1 Year Old, Standing & Running!

OTM Granddaughter Catherine Rose "Cate" at 2 days old

Proud OTM Grandparents right after Cate's Baptism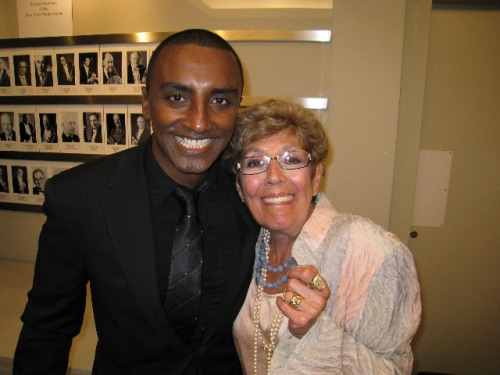 Ann with Chef Superstar Marcus Samuelson, at 2008 James Beard Awards

Peter makes friends with Mosern Art at Milan's Castello Sforzesco
How the Great Basque Chefs do it - Elena Arzak Tests for Taste Perfection

How the Great Basque Chefs do it - Chef Igor with the Spice Array in Arzak's Experimental Kitchen

How the Great Basque Chefs do it - Martin Berasategui Insists on Posing with his Entire Kitchen Crew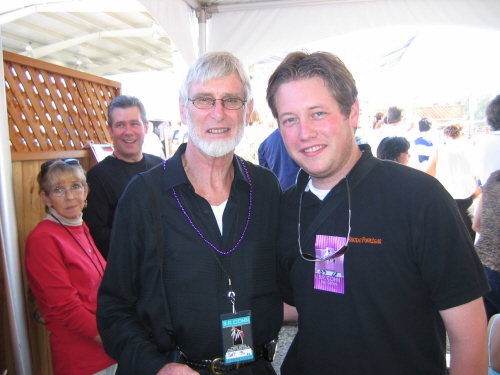 Peter with Brian Henderson, Nemacolin Wine Director at the BRCohn Charity Concert, Oct 2006

In Adelaide, South Australia - we found out this is NOT the family business

Ann loved this street sculpture in Melbourne, Australia - they would not reveal their Diet Secret!

Peter in Federation Square, Melbourne, sporting his newly purchased straw Akubra (that's the hat)

Ann loved these Dolls at Sydney's Paddington Market, a must visit on Saturdays

Sydney's Anzac Bridge - locals call it "Madonna's Bra" - can you guess why?

Ann admires the Cheese selection at Stephanie Alexander's Richmond Hill Cheese Larder in Melbourne

That was lunch! 2 dozen Rock Oysters with White Wine at The Sydney Fish Market

Ann with Chef Adolfo Garcia & his Partner Nick Bazan at Riomar, New Orleans

Dramatic Sunrise in Peter's Home Town, Huddersfield UK. The Sun did not shine for long

Peter loves Sunsets too. This one in South Australia's Barossa Valley

Ann toasts & tastes Loire Valley wines at Domaine Douzon

Peter would not spring for this gown at Christian Lacroux, Paris

On the Japanese Bridge at Claude Monet's Giverny estate
Charcuterie on display at a Versailles, France - we bought the picnic lunch here

And here is the Picnic

Ann enjoys OTM's (secret) Wedding Anniversary at Boulevard, San Francisco

And Peter was there tool!

Ann discusses the GREAT menu at San Francisco's Restaurant Gary Danko with the Man Himself

Peter with the Chefs at the newly renovated Bedford Springs (Pennsylvania) resort. Past celebrity guests never had it so good!

Chilean Poet & local celebrities at Dottore Presti's event, Leonforte, Sicily (Italy)
With the owners after a Plentious Pasta dinner at Ristorante Plistia, Pescacerolli, Abruzzo (Italy)